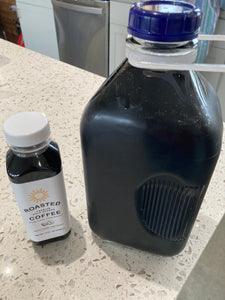 Cold Brew Coffee
Our cold brew coffee is made using the finest single origin coffee beans and roasted to perfection. They are then soaked in cold water for 24 hours, drained and then refrigerated.
The taste is unique with an incredible smooth, creamy texture on your tongue and can be made according to your individual tastes. Drink it black over ice. Dilute it and add ice. Add oak milk and ice. There really is no wrong way to enjoy it!
We offer two sizes- 12 oz or 64 oz and both are available locally only in West Burke Vt or at retail outlets. 
The 64 oz glass bottle is $12.00 plus a $3.00 bottle deposit on the first bottle. These can be returned and exchanged for a new bottle of cold brew.
The 12 oz size will be available at retail outlets as well as through us and will retail for $3.75
Wholesale opportunities are available for restaurants and other food outlets for bulk cold brew to serve at your establishment or for 12 oz bottle sales. Please contact us for more information and how we can partner together to bring some great cold brew and/or coffees to your friends and customers. 
---