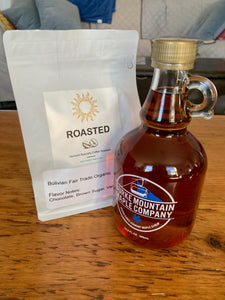 Coffee and Maple Syrup Gift Set
Here's a really sweet gift idea. Locally made Vermont maple syrup from our neighbors at Burke Mountain Maple Company and a bag of our Bolivian Fair Trade Organic roasted coffee (Medium roast). 
1. Brew your coffee as you normally would and then add a touch of maple syrup as a sweetener to it black or with the milk that you usually add. You'll love it and want more!
2. Or Brew up a cup of our coffee roasted here in West Burke, Vermont and drink as you would normally and put your maple syrup over some pancakes, waffles, french toast or...?
Makes a great gift for the holidays to bring to family and friends, a house warming gift,  your co-workers, your office staff to show your appreciation or just to let someone know you were thinking about them! No matter how or why you give this gift it will be appreciated and probably won't last long!
---